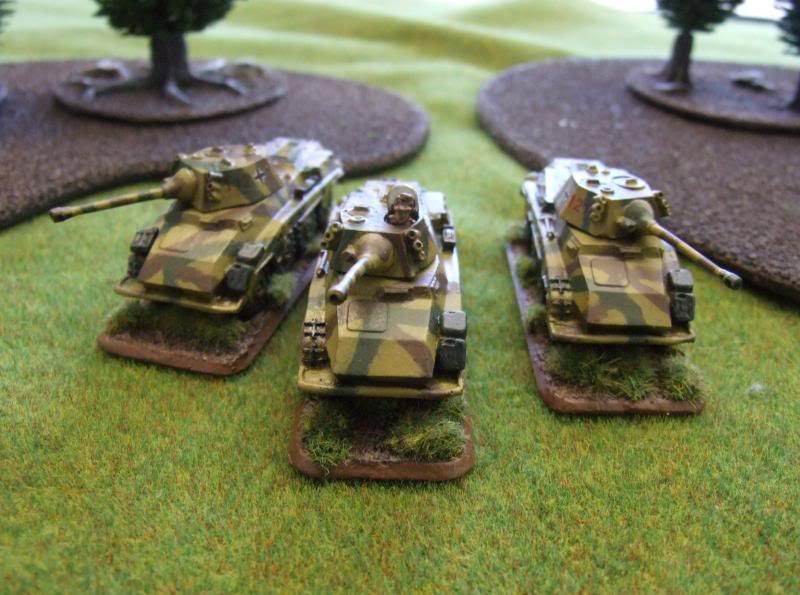 I have 13 of these bad boys, but only 3 fully painted. The rest all have their basecoat and camo applied...just have to apply the finishing touches. These 3 however were the lucky winners and were part of my list in the tournament last March....so I had to get these guys D-O-N-E!
I get them all finished and looking purty....only to leave them at home and bring instead 3 of the half painted models.
I know...I know
So its long past time for these guys to burst upon the world in all their glory.
Puma #1
Puma #2:
Puma #3:
I used the same techniques and colors as I did with the armored AA halftracks. The vehicles were all airbrushed with Vallejo Middlestone (882) as a base color and then stripes of German Camo Medium Brown (826) and Reflective Green (890) were added. I was using my single action airbrush and the stripes were a
LITTLE
thick, so I had to thin them out by stippling the edges with Middlestone.
The tires were basecoated 950 black and then lighter colors built up with drybrushing ....first 862 Black Grey 836 London Grey then finally 870 Medium Sea Grey.
The fuel cans are 830 German Field Grey as basecoat, 979 German Camo Dark Green as a 1:8 wash and then a mix of 830 German Feldgrau and 886 Green Grey at 1:5 as a hi lite. On one Puma I added an extra can I had left over in my bit bucket.
The number decals on the turret were homemade using Testors decal paper. I couldn't get a nice single number from the Testors sheets to go on the door behind each front wheel. So I ended up hand painting those.
They are
A LOT
of fun to play with just one patrol of 3 Pumas....excited to try 13 of them on the field at once. Maybe..one day...I can try full the full Monty of 19 Pumas!